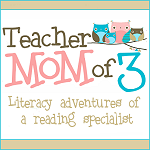 Hooray it's TUESDAY! I'm excited to bring you another amazing tip from one of my bloggy friends!! Today's guest blogger is Lauren Noris from
Teacher Mom of 3
! She has a ton of great ideas so please stop by her blog ASAP! :) Here is her fabulous tip...
Have you used any of the writing generators at
ReadWriteThink
? I have used quite a few of them over the years such as the
Friendly Letter Generator
and the
Bio Cube Generator
. Students love the online interactive writing templates, and I love using them as a way to motivate kids to write! Often, I will use the generators for students to write their final copy/published piece for assessment.
Recently, I found the
Book Cover Generator
which is appropriate for students from kindergarten to grade 8. There are links to lesson plans for various grades taht make use of this very cool tool! This online interactive site is used for students to create a book cover for a book they have read, have listened to, or for a book they have written!
There are three options for the book cover: front cover only, front and back covers, or full dust jacket. The generator has text and drawing tools for students to write the title, author, questions, a summary, and to create their own drawings! Planning sheets are available in printable PDF forms for students to use for drafting and revising before they use the generator
.
Why would I consider using this for kindergarteners or first graders?
Ø
Teaches the parts of a book and concepts about print by having students apply their knowledge
Ø
Can be used for shared and interactive writing: teacher and students create a book cover using the Smart Board or Mimio Board after listening to a story. A great reading comprehension assessment tool!
Ø
Can be used for students to respond and "show what they know" after reading independently
Ø
Can be used in small groups for book clubs and literature circles
Ø
Can be used to design a book cover for books students write themselves or for a class book
Here's front cover that my six year old created for the book No, David! By David Shannon:
On the back cover, he wrote a list of all the reasons he
likes the book! We printed the covers, cut out and glued
together!
Book covers could be displayed on a bulletin board as a way to share what students are reading. They make a fun visual for students to use during Book Talks.
This summer I plan to have my two young sons design a book cover for a story that we write together!
Have fun exploring the
readwritethink
site. There are many free lesson plans, ideas, and printables!
The years I have been teaching:
23 years
The grade(s) I have taught:
Every grade from pre-K- 12 except for 9th and 10th!
The state/area that I teach in:
Maryland
My email address: teachermomof3@comcast.net
Thank you very much to Lauren for sharing this amazing tip! Make sure you stop by her blog and say "hi"! :)
**Interested in being featured?

Email

me!!**
So I'm gearing up for a giveaway! I was GOING to celebrate 200... but... it looks like 250+ :) I am excited for it~ it will be different than your typical giveaway!! I will probably unveil it on THURSDAY or FRIDAY this week!! So stop on back!