Hi Friends :) Just in case you hadn't heard... there's a BIG, GIGANTIC, COLOSSAL, HUGE Back To School Sale that is right around the corner! Almost all of your favorite TpT sellers will be running a 20% off sale on August 12-13 and with the promo code (BTS12) you can get up to another 8% off! I know I plan to do A LOT of shopping during those two days! Did you know I currently have 41 wish list items! Yikes! :) I will also be running a 25% off sale at my TN store too! Click either banner below to go to the stores:
I also wanted to share a bit about morning messages. This is something that I LOVED doing when I taught first grade. I'm currently working on how to do it again now that I'm teaching second. I have also heard from some K teachers that they have starting doing morning messages in January.
What is a morning message?
Well, you begin each morning by having a prewritten message either on chart paper, on your white board, or even on your interactive white board (or projected onto your white board). I had paper slightly larger than construction paper that I wrote the message on. The message would look something like this:
Hello Fabulous First Graders,
Today is _onday, _ugust 9, 2012.
Today we will be rhyming! Tell
me a word that rhymes with a word
Each new message I would leave out letters, and eventually words that the kids could fill in. We would practice SO many skills like: days of the week, months of the year, letter sounds, counting sentences, punctuation, rhyming, tally marks, graphing, counting, number sense, place value, seasons, phonics, AND SO MUCH MORE!!!
It was a great way to start the day and it often became a way to preview what the kids would be learning that day. It also was a great way to review skills taught during the week. It is so interactive and became a great way for me to introduce new skills. I can't tell you how much I lOVED my message time. There was one time that I didn't get a chance to have a message written for the day and my class was devastated! :) That is how much they loved the messages!
So here's comes the plug...
yes, I DO have a product in my TpT store! It is a pretty sweet product and my absolute best seller!!
If you are interested in doing a morning message, but are not sure what exactly to write... this will be your lifesaver! The morning message pack has messages for every day from mid August through April. You may not use them exactly, however, there are so many ideas that it may help spark an idea for you!
If you want to see this product directly, click the picture below:

I also have a really fun back to school pack that will be on sale too! It looks like this:
I am so excited to share these activities with you as these are things I do almost every year and LOVE them all!! There are 12 different "get to know you" activities and games included! :)
How many days before the start of school for you?? I have 12 days until my official first day! Yikes!!! Early next week I will be able to share some classroom pictures...stay tuned!
**Update...
Head over to Tonya's Treats for Teachers...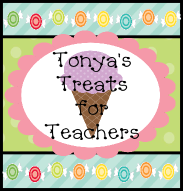 she has a $25 TpT gift card up for grabs!!! (and I want it!! ;)